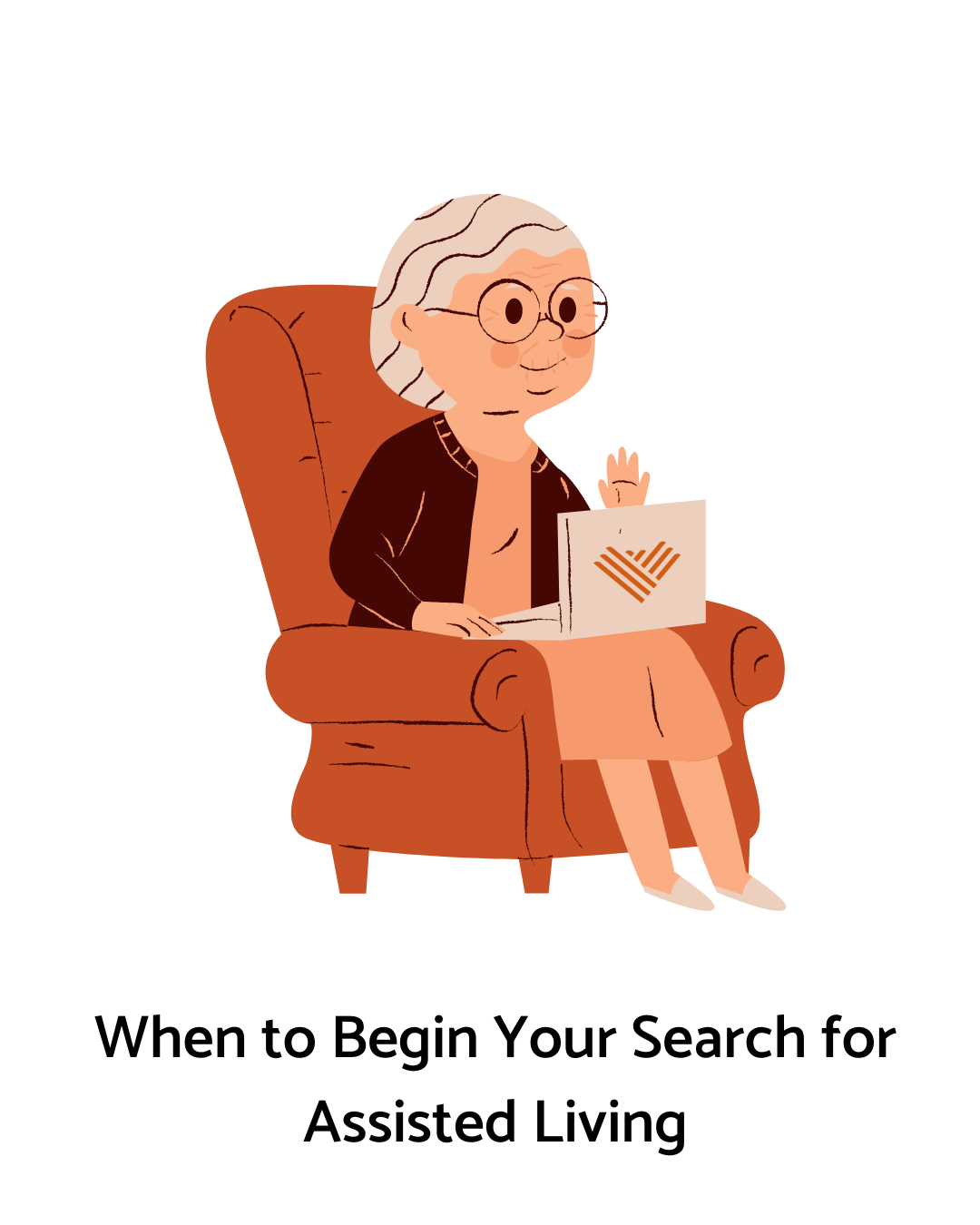 What to Know Before Searching for Assisted Living
How do you know when your loved one would benefit from moving into an assisted living community? How do you know when to start looking for senior living communities? Are all senior living communities also assisted living? These are prevalent queries, and for a good reason!
Many people wait longer than necessary before beginning their senior living search with their loved ones. Every family has unique needs and circumstances that should be considered before starting this journey. By the end of this article, you will be able to identify the needs of your loved one and feel confident beginning your search.
How are Assisted Living and Senior Living Different?
These terms are often used interchangeably; however, they are far from the same thing. Senior living communities are residencies made up of people ages 55+ (think retirement community). There can be various living options within different neighborhoods, and the level of care will vary depending on which community you look at.
In the same way that not all rectangles are squares, not all senior living communities are assisted living. Many types of senior housing exist, but not all communities offer assisted living.
Then what exactly is assisted living? Assisted living is defined by Oxford Languages as "housing for elderly or disabled people that provides nursing care, housekeeping, and prepared meals as needed." There are many different types of assisted living communities, each of which provides various care services. The University of Rochester Medical Center lists a few:
Independent Living Communities
Adult Homes
Enriched Housing
Assisted Living Programs (ALPs)
Nursing Home
Memory care
Signs That Assisted Senior Living Is Right For Your Loved One
The first step in assessing assisted living needs is identifying what level of care your loved one needs. Finding the perfect fit requires understanding what level of senior care your loved one requires.
Begin by noting what support you are already providing. If your senior can drive to get their groceries but needs help with yard work, it may make sense to hire a landscaper to help out. However, home care can add up depending on the number of things your senior needs assistance with throughout their day-to-day.
Ask yourself this important question. Can my loved one do the following with little to no assistance?
Household Chores
Get Dressed
Take their medication
Make their appointments
Drive
Prepare their meals
Socialize often
Many older adults consider themselves fully independent yet struggle to keep up with the maintenance of independent living. If your parent, grandparent, or loved one struggles to keep up with daily chores and tasks, it may be time to take out the hassle and let them enjoy maintenance-free living.
Anticipate the Time it Takes To Find an Assisted Living Community.
In a survey conducted by the CDC National Survey of Residential Care Facilities, almost 30% of senior living communities have a waitlist. The average wait for admittance is usually over 180 days! This timeline is reflective of those who have already selected their community.
The truth is that for many people, finding the perfect community can take up to two years. Evaluating options and ensuring all family members are on the same page should be done before there is ever a "need" for assisted living. The sooner you gather information, the easier it will be to select the perfect home for your loved one without risking the waitlist.
Utilize websites like A Place for Mom or Caring.com to see what communities are close to you. Many of these residencies host events (especially around the holidays). Bring your family to these events and get first-hand experience with the residents and care team members. Maximize your research by using these five research tips!
Understand the Costs: The Cost of Your Time, Emotional Well-being, and Financial
Now that you have identified what support your loved one needs, it is time to consider the cost. The financial cost is often the first thing that comes to mind when looking to help your loved one; however, there are critical costs to consider that are not simply economic.
Society has yet to discover a way to add more than 24 hours into a day, which means time is an extremely limited resource. Senior care encompasses health care, socialization, and assistance with daily tasks. Many families try to take everything on while maintaining balance in their own lives. Dedicating your life to the care of your loved one is a noble endeavor, but many people do not have the hours in a day to commit to senior care full-time.
The emotional well-being of your family should be a significant consideration in the decision-making process. Do you have the resources to ensure that your senior maintains a lifestyle that improves their emotional and mental health? Will you be able to meet your personal goals and commitments while also being their dedicated caregiver? It is paramount to consider the impact on your senior's mental health and your own before taking on additional duties.
Once you fully understand the scope of the time required and its impact on the well-being of those involved, you will need to determine the financial cost. Determining the cost of assisted living is simple once you know the level of care required. You can find the average cost of assisted living in your area online, and if your senior has Dementia or Alzheimers, add the cost of memory care to that price.
Determining the cost of in-home care can be difficult, but the good news is there are many resources to get you started. Home care calculators can help determine the number of hours required based on the senior's needs. To get a rough idea of the cost, multiply the hours of care needed by the going rate of home care in your state. This method is an excellent place to start, but be sure to include the variable financial costs in your estimation.
For an accurate idea of the financial cost of home care, utilize this step-by-step worksheet (scroll to "Estimating Home Care Costs the Accurate Way"). This five-step worksheet considers the level of care needed, provider assistance (like Medicaid), and basic monthly costs like electricity, food, and water. It helps you calculate based on your specific situation.
Know Your Resources
Beginning your search might initially feel overwhelming, but there are resources to help! Talk to the community directors, ask your friends and family who have gone through this experience, and take advantage of the online tools at your fingertips! The perfect community and maintenance-free living are just around the corner.