INDEPENDENT LIVING STARTING AT $3,150 | ASSISTED LIVING STARTING AT $3,500
Independent Living & Senior Assisted Living
Trinity Oaks of Pearland offers a warm, respect-filled assisted living community conveniently located in the heart of Pearland, Texas, just south of Houston, our community is within minutes of a major chain grocery store, local churches, a community center, and shopping. We provide both independent living and assisted living apartments designed to feel like home, with privacy in place for all residents.
Senior Living in Comfort
Our staff works 24 hours daily to meet our residents' needs and provide for their well-being.
Living at Trinity Oaks is not only comfortable, but it is also affordable. We offer easy-to-understand service plans. Our professional staff assists in the development of service plans tailored to meet the unique needs of each resident.
We encourage you to drop by and get to know us. We look forward to answering any questions you might have about living at Trinity Oaks.
FAC #100756
INDEPENDENT
LIVING

ASSISTED LIVING
Trinity Oaks' service and care levels are designed with the dignity of the residents in mind and with the goal of maintaining independence for as long as possible. Each resident is carefully and thoughtfully assessed during the application process to determine the most appropriate level of care. Additionally, there are regularly scheduled evaluations to ensure each resident is receiving the most appropriate care.
Independent Living
With planned group outings and a variety of community events at Trinity Oaks, residents have the choice to be as involved as desired while gaining the support needed to maintain living independently. We are committed to assuring each resident's well-being, and seek to meet their individual lifestyle needs.
Assisted Living
Within Trinity Oaks, we work daily to meet your needs and provide for your well-being while ensuring each resident maintains mobility within our community. While we assist you with the basic activities of daily living (ADLs), we want you to feel at home with ample comfort, privacy and security, but also part of a family with involvement in community events and outings.
For Independent Living and Assisted Living, we offer our residents studio, one- and two-bedroom floor plans.
Ranging from 665 to 980 square feet
Kitchen equipped with refrigerator/freezer, cook top, oven, microwave and dishwasher
Kitchenette equipped with a small refrigerator/freezer and microwave (Assisted Living)
Wall-to-wall carpet
Assistance call systems

Washer and dryer (Independent Living)
Individually controlled air-conditioning and heating system
Mini-blinds
Smoke detectors/sprinkler system
Satellite TV with in-house programming

Assisted Living

Four floor plan options
One or two-bedroom options
Ranging from 360 to 795 square feet
Cable accessibility
Emergency call systems
Download Brochure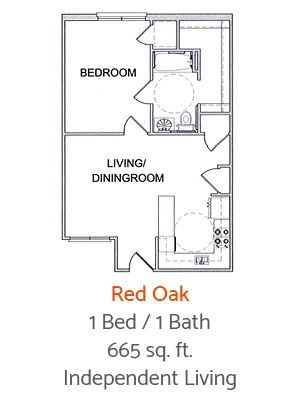 Trinity-Oaks-Pearland-Red-Oak-Floor-Plan-1-Bed-1-Bath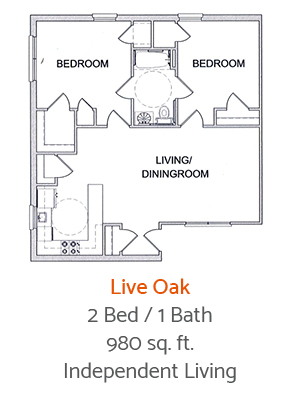 Trinity-Oaks-Pearland-Live-Oak-Floor-Plan-2-Bed-1-Bath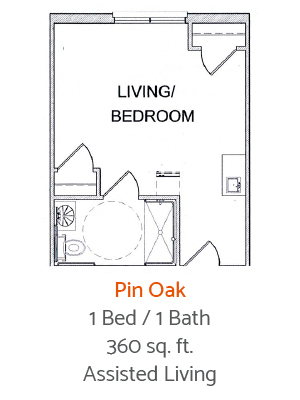 Trinity-Oaks-Pearland-Pin-Oak-Floor-Plan-1-Bed-1-Bath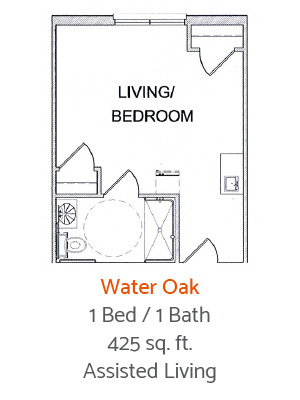 Trinity-Oaks-Pearland-Water-Oak-Floor-Plan-1-Bed-1-Bath6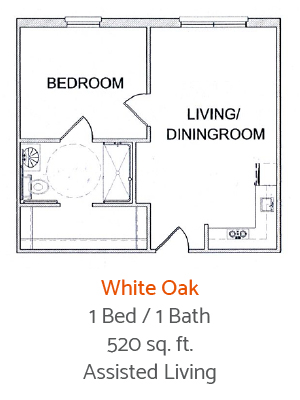 Trinity-Oaks-Pearland-White-Oak-Floor-Plan-1-Bed-1-Bath4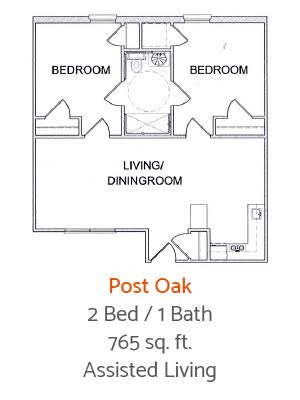 Trinity-Oaks-Pearland-Post-Oak-Floor-Plan-2-Bed-1-Bath5
We offer an extensive array of amenities to ensure your comfort, convenience and enjoyment.
Lifestyle Amenities
Lounge area with TV/free cable
Library and study
Great room with piano and fireplace
Theater and multi-purpose room
Spacious dining room, restaurant-style service
Chef-prepared meals with dietician overseeing nutritional needs
Spacious living room areas
Outdoor common areas
Garden center
Snack bar
Comfort & Convenience
Free Wi-Fi
Free parking
Housekeeping provided
Laundry service/ dry-cleaning (Assisted Living)
Beauty salon and barbershop
Individual mailboxes
24-hour awake staff
Nurses on staff
Scheduled transportation
Visiting podiatrist
On-site RNs / LPNs
ADL assistance (Assisted Living)
Medication care managers/ medication technicians (Assisted Living)
Programs & Activities
Full-time activity director
Arts and crafts
Group outings
Chapel/bible studies
Billiards lounge
Exercise programs
Holiday programs
What's Nearby
There are variety of nearby restaurants, shopping and local attractions near Trinity Oaks of Pearland. Below is a brief list of places closest to Trinity Oaks.
Trinity Oaks of Pearland
Pizza Hut
Sonic Drive-In
IHOP
Chili's Grill & Bar
Marble Slab Creamery
H-E-B
Walgreens
CVS
Kroger
Texas West Oaks Hospital