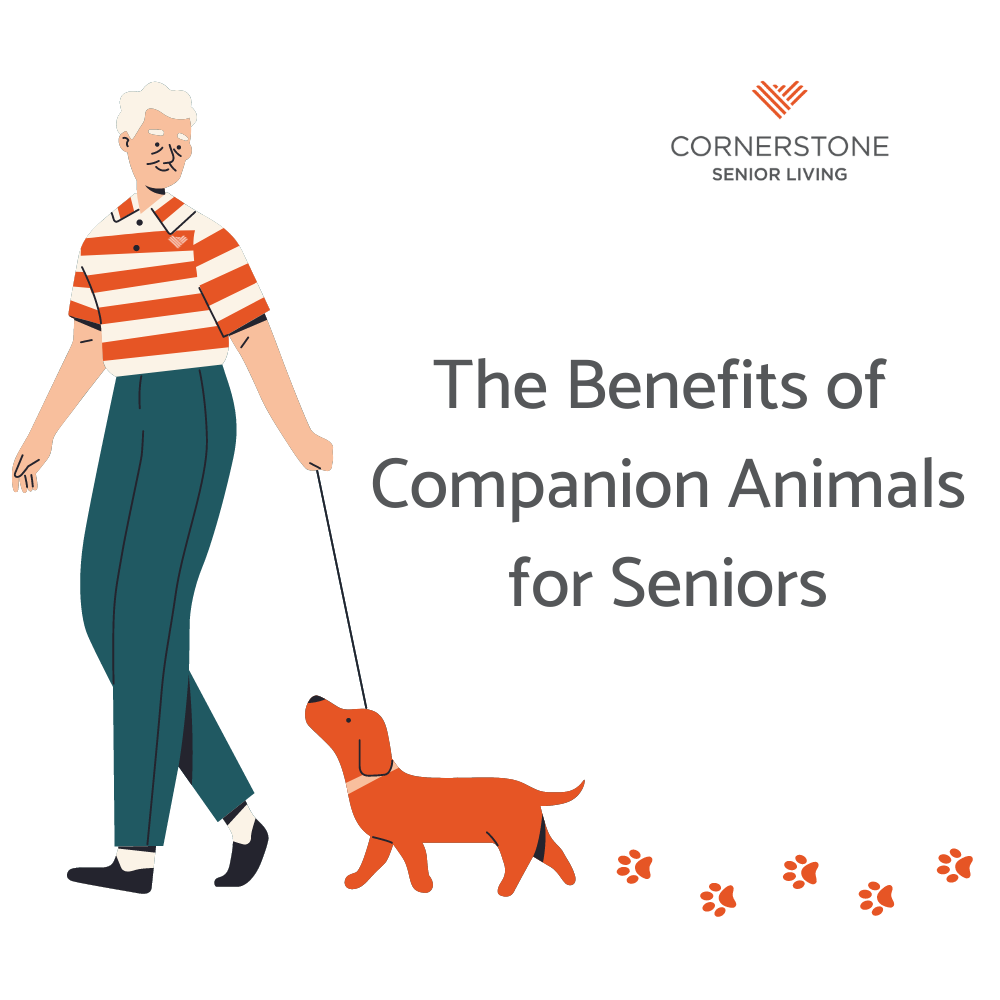 The bond between companion animals and humans is like no other. Studies have shown that interacting with animals is beneficial for mental health, relieves stress, and can help reduce the possibilities of other illnesses. Furry friends bring joy to all during every phase of life!
The Benefits of Seniors with Pets
 Whether you or your loved one already has a pet or is considering one, there are many advantages to having a companion animal in your life.
Improved activity: Seniors' activity levels will increase due to frequently walking or playing with their four-legged friends.

Forming Healthy Habits: When you are responsible for caring for animals, a routine is created around them. This is beneficial for seniors to maintain a sense of purpose and provides self-confidence through completing daily tasks.

Stress relief: Many pets provide us with a loving and calming presence. This effect increases serotonin levels and calms anxieties.

Increased social interaction: Seniors who walk their pets socialize with dog walkers or neighbors. When living in a senior community, having a pet is a great way to bond with a new friend!
"In our pet-friendly community, pets provide constant companionship for their owners. Other residents often bond with the pets, creating camaraderie among neighbors," states Jeff Denson, Executive Director of Chisholm Trail Estates Senior Living. "We also see that our pet owners do not struggle as much with their mental health; their animals keep them active and joyful!"
With owning a pet comes responsibility. If you consider bringing a pet into your life, make sure you are ready for the commitment. For seniors, it is important to research your animal's breed to ensure their health and energy needs match your lifestyle.
Therapy Animals in Senior Living Communities
Pet therapy is often utilized in senior living communities, which is excellent for seniors who do not own a pet. Local animal therapy organizations can bring trained pets to visit. Dogs and miniature horses are resident favorites.
(Knoxville Horse: During a community event, a local organization brought miniature horses to visit with our Trinity Hills of Knoxville residents.) 
 "Just 15 minutes bonding with an animal sets off a chemical chain reaction in the brain. The result: heart rate, blood pressure, and stress levels immediately drop," an AgingInPlace article shares. "Over the long term, pet and human interactions can lower cholesterol levels, fight depression, and may even help protect against heart disease and stroke."
Pet therapy allows seniors to enjoy the benefits of spending time with a companion animal without the responsibility of owning one. Many senior living communities arrange regular visits with local organizations.
If you a seeking a community partner, visit the American Kennel Club's list of recognized therapy dog organizations to find one near you!
Companion Animals at Cornerstone Senior Living
Smiles light up the room when a furry friend walks through the doors of a Cornerstone Senior Living community. Our residents enjoy every moment they spend with their own pets or when a four-legged friend visits the community.
At Cornerstone Senior Living, your pet is an extension of you, and we'd love to welcome them into our family. To find a pet-friendly community near you, click here.