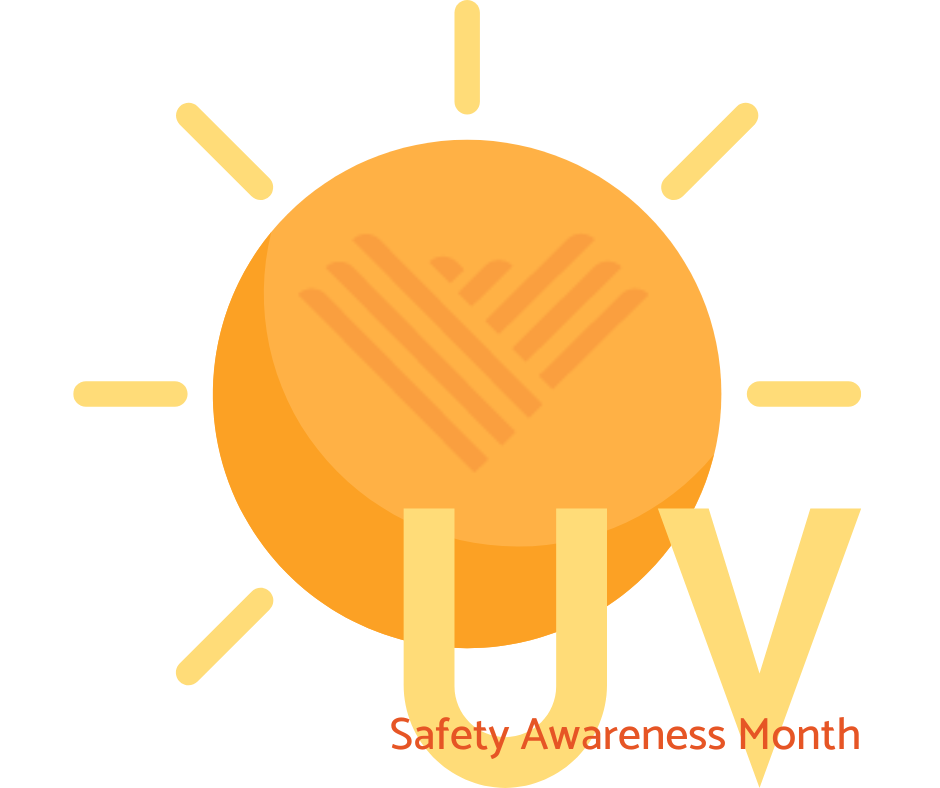 Fun in the sun is a famous motto for summer; until you get a stinging sunburn. Taking precautionary steps to protect your skin will ensure you can safely enjoy Vitamin D all summer. No matter your age, UV protection is always essential for sun safety!
What are UV Rays?
UV ray is short for ultraviolet radiation. UV rays are emitted from the sun, and some manufactured sources, like a tanning bed. There are three types of UV rays: UVA, UVB, and UVC. UVC rays are completed absorbed through the ozone layer and do not cause harm to us. UVA and UVB rays can penetrate the ozone layer, leading to skin damage.
The Center for Disease Control and Prevention states that UVA radiation penetrates deeper into our skin and is a more constant UV ray, causing damage as time goes on. UVA rays are responsible for freckling of the skin, sunburns, wrinkles, skin cancer, and more. UV protection becomes more imperative later in life because as we age and our skin thins, UV light can penetrate the skin more deeply, leading to significant skin damage.
According to a CDC report, most cases of skin cancer are found in people 65 years or older, and five million people are treated for skin cancer each year. Through every stage of life, UV protection is the most effective way to reduce the risk of skin cancers.
Have Fun in the Sun Safely
Be proactive while you are in the sun! Here are three easy ways to better protect yourself from harmful UV rays.
Sunscreen is your best friend! "Broad Spectrum" sunscreen protects you from UVA and UVB rays. It is recommended to use SPF 30 or higher and to reapply every two hours. If you are swimming or sweating, you should reapply sunscreen more often.
Utilize protective clothing! Wearing clothes that cover your arms and legs will reduce the UV rays that come in contact with your skin. Some clothing brands make apparel with UVA and UVB protection in the fabric! You can protect your face and eyes by wearing a hat, staying in the shade, or wearing sunglasses that provide UV protection.
Be mindful of the time you are outside! UV rays are their strongest between 10 a.m. to 4 p.m. It is best to schedule your outdoor time before or after this timeframe. However, if you choose to spend your day outside, wear a higher SPF and stay in the shade if possible.
Sun Safety for Seniors in Texas
"Our residents often wear sun hats and sunglasses when we go on outdoor outings, or if it is sunny while sitting on our front porch," shares Candace Reyes, Executive Director at Trinity Shores of Port Lavaca. "The UV index can get quite high in south Texas, so it is important that our residents use sunscreen and other measures to protect themselves."
It is never too early or late to protect yourself from UV rays. Research has shown that as we age, we neglect the importance of sun safety. Implementing these simple steps to your routine will have your skin thanking you.
Cornerstone Senior Living Cares About UV Protection 
All Cornerstone Senior Living communities recognize the importance of sun safety. We focus on educating our residents on UV protection so they can enjoy our courtyards, gardens, or walking paths. To find a senior living community closest to you, visit our Cornerstone Senior Living page.