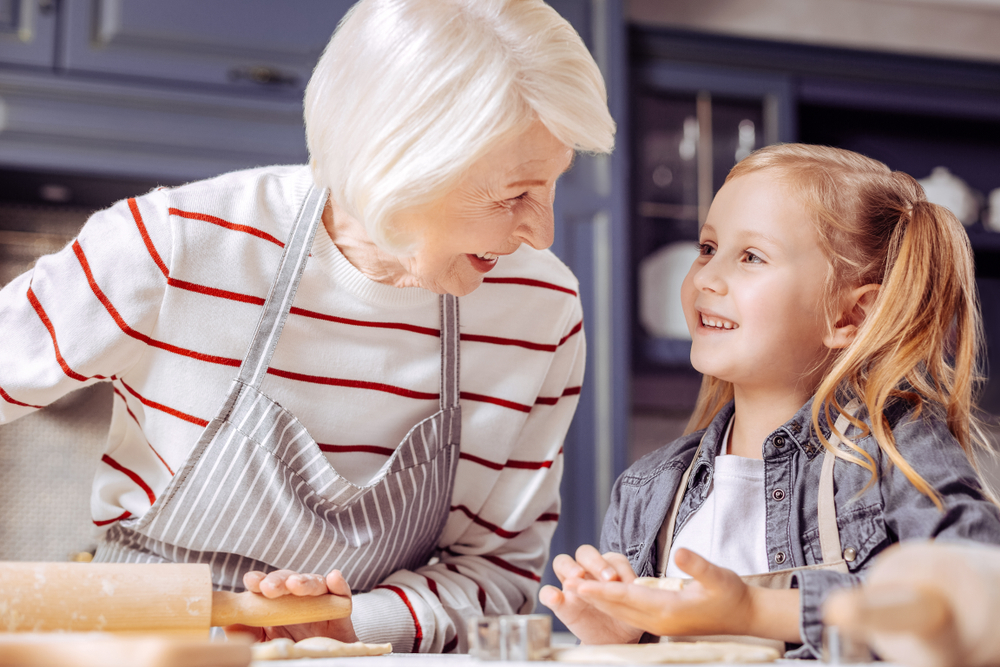 Keeping elderly loved ones involved with family activities is important. With the fall season well underway, now is the perfect time for you to start planning how to keep your loved one in senior living full of the seasonal cheer. Here are ten quick activity ideas that you and the whole family can enjoy during the cooler Texas season. These activities are great for a variety of care levels, including those in assisted living, independent living, or memory care.
Indoor Ideas
Sometimes even in the fall, the weather is just too brisk to venture outside with your elderly loved one in senior living. Don't fret, aside from the usual fun indoor activities at their community, you can always stir up some fall festivities with these five ideas.
1. Bake Some Fall Fun Up
Tis the season to get the oven warmed up for some tasty treats. When visiting your senior living family member this season, bring along a fun recipe that you can safely cook together. Bake a pumpkin pie for Thanksgiving dinner, or prepare some sugar cookies to watch while reminiscing on the past. Anything you cook up together will bring joy to the hearts of everyone involved.
2. Learn How to Knit
If your loved one has a knitting hobby or other hobby that you aren't generally acquainted with, now is the time to learn something new. Find out what your loved one enjoys and pick up enough materials to fill up an afternoon of special activities with the whole family.
3. Have a Fall Fashion Show
No matter the age, everyone likes to look great during the fall. With the creation of services like Amazon Wardrobe, you can now pick out fall clothes for your loved one and help them enjoy the crisp and comfortable looks of the season.
4. Create a Sense of "Hygge"
Hygee is the Danish translation for "cozy." This is a current trend that involves families and friends coming together by a fire to enjoy mellow activities like:
Reading books
Enjoying tea or coffee
Playing cards or board games.
5. Practice Some Mellow Exercise
Yoga and Tai Chi can be balance-promoting activities that work well for seniors. Enjoy these slow movement exercises from the comfort of your loved one's apartment or activity room.
Taking the Fun Outdoors
Although indoors can be relaxing, sometimes your loved one may want to venture outside for a good time. Here are five outdoor experiences that will be fun and not too taxing for community members.
1. Take Advantage of Gardening Season
Fall is the perfect time to enjoy gardening activities. However, while you take in the fresh air, make sure that you are practicing safe gardening with senior-friendly tools and materials.
2. Go Leaf Peeping
Fall is a perfect time to take in the beauty of nature changing its course. Look into local nature programs for leaf peeping tours. Make sure to plan ahead and see if you can't find a bus tour for this experience. This way you can ensure the comfort of your loved one throughout the outing.
3. Attend a Fall Craft Festival
Fall crafts can be a fun experience, but sometimes putting them together yourself can be taxing, especially for the elderly. The great thing about living in Texas is that fall festivals are everywhere during this season. This is a fun time to let your loved one enjoy a relaxing event where soothing smells, sites, and tastes are abundant.
4. Apple Picking, Anyone?
You may have to take some time to research for this outdoor activity, but apple picking at a local orchard is always a relaxing activity. Not only does this promote you and your loved ones spending time together, but you also give them a taste of fresh air that will definitely put some pep in their step.
5. Have a Tailgate Lunch
For the senior living community member that loves football, plan an outdoor tailgate party to get them pumped up for the big game. Not only can you serve the usual brats and burgers, but you can also offer some healthier options that will help prevent onset Alzheimer's and dementia.
Keep Your Senior Living Loved Ones Involved at Cornerstone
Keeping the entire family involved is important during the holiday seasons. Make sure you have a relaxing community to meet at for these special occasions. If you know your loved one is ready to enter senior living for a higher quality-of-life, Cornerstone Senior Living is ready to show you around. Contact us today to find out more about scheduling a tour and our current services.