ASSISTED LIVING STARTING AT $3,700

Trinity Timbers Assisted Living
Assisted Living Community
Trinity Timbers Assisted Living, located in Longview, Texas, provides a unique environment with personalized services designed to meet the needs of every resident. Trinity Timbers Assisted Living is the perfect balance of the comforts of home with the support services needed.
Two tastefully decorated homes, each with individual apartments, living areas, and kitchens, provide just the right environment all seniors desire. Our dedicated and caring staff offers the assistance you need while respecting your independence. Whether for an extended stay or just a short-term visit after being discharged from the hospital, our staff is dedicated to providing the very best compassionate care for our residents and their families.
Compassionate Senior Living
We make it our top priority to care for seniors with the respect, compassion, and dignity they deserve. Our resident-respect approach to caring is what continues to be our driving force. Our love for our residents is best measured by the respect, dignity, and compassion we extend to them daily.
Come experience the unique family of residents and staff at the only home-like assisted living community in Longview, Texas.
FAC #100155
FAC #100156
Our beautiful community offers assisted living services, and a rich focus on health and wellness. At each level of care, our staff is overly-courteous, respectful and maintains a high level of professionalism at all times. Our primary goal is to provide you with the necessary support so you can continue to be as independent as possible all in a friendly, homelike environment.

ASSISTED LIVING
Assisted Living
Our Assisted Living community offers round-the-clock help, as needed, all while maintaining respect for each individual's aging process. Whether the need be with activities of daily living (ADLs) such as bathing and grooming or with issues such as medication assistance or incontinence needs, the compassionate, trained staff at Trinity Timbers is always available. That's a part of what makes us so special!
We know what an emotional adjustment it can be to leave one's own familiar surroundings. Our community focuses on a non-disruptive, dignified and comfortable way of life, where any degree of desired professional assistance is immediately available.
We pride ourselves on personalized service and care plans designed with the dignity of the residents in mind while maintaining their independence for as long as possible. Each resident is carefully and thoughtfully assessed during the application process to determine the most appropriate level of care.
Download Brochure
Our community consists of 12 Assisted Living apartments.
Three floor plan options
Ranging from 174 to 195 square feet
Private bath

Large window, natural light
Emergency call systems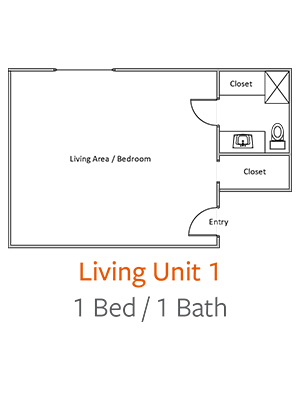 Trinity-Timbers-Floor-Plan-Living-Unit-1-1-Bed-1-Bath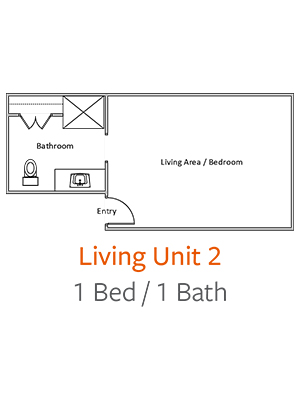 Trinity-Timbers-Floor-Plan-Living-Unit-2-1-Bed-1-Bath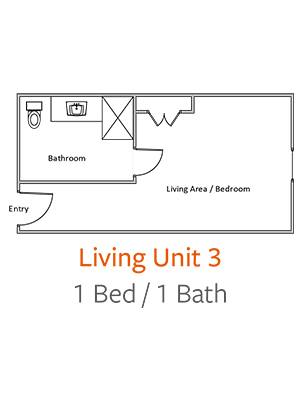 Trinity-Timbers-Floor-Plan-Living-Unit-3-1-Bed-1-Bath
We offer an extensive array of amenities to ensure your comfort, convenience and enjoyment.
Lifestyle Amenities
Spacious living room
Dining room
Three nutritious meals per day
Outdoor sitting areas
Walking paths around community
Wheelchair accessible showers
Residential parking available
24-hour staffing
Medication management and supervision
Scheduled transportation
Comfort & Convenience
Wheelchair accessible showers
Residential parking available
24-hour awake staff
Daily supervision of medications
Daily transportation available
Programs & Activities
Trinity Timbers Assisted Living makes available an assortment of daily activities for our residents. We believe an active life goes a long way toward improving a person's emotional well-being. Our staff encourages interactions among residents by means of age activities.
Fitness CLasses
Bingo
Regular outings
Painting
Movies
Card games
Birthday parties
Holiday programs
Weekly religious services
What's Nearby
There are variety of nearby restaurants, shopping and local attractions near Trinity Timbers Assisted Living. Below is a brief list of places closest to Trinity Timbers.
Trinity Timbers Assisted Living
Chick-fil-A
Wendy's
Sonic Drive-In
McDonald's
Walmart
Walgreens
Taylor Medical Center