IN PERSON AND VIRTUAL TOURS AVAILABLE!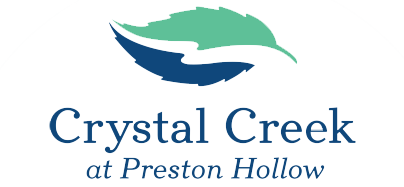 Newsletter
Assisted Living Calendar
Memory Care Calendar
Ombudsman Information
Crystal Creek at Preston Hollow
Crystal Creek at Preston Hollow offers a tradition of excellence and high-quality living in a prime North Dallas environment. We offer a complete continuum of care designed to meet the present and future needs of our residents. Our offerings include Skilled Nursing and Rehabilitation, Assisted Living, and Memory Care.
Our vibrant North Dallas community provides modern amenities and services that keep residents close to family and friends and make daily living an absolute pleasure. Private rooms, luxurious floor plans, spacious apartments, a furnished outdoor patio with an elegant garden, and a caring team all await you at Crystal Creek.
Crystal Creek is Medicare certified.
FAC #100715

SKILLED NURSING AND REHABILITATION
We offer all levels of assistance and care for our residents. With 45 spacious assisted living apartments, 21 memory care apartments, and multiple floors of private rooms designed to meet the needs of our skilled nursing and rehabilitation residents, we are able to manage transitions to higher needs without the need to change settings. Our licensed staff and trained caregivers offer a full continuum of care with three levels of support. With every level of care, we will provide for you in a therapeutic and caring environment.
Our assisted living homes offer tailored assisted living services that help residents feel at home. At Crystal Creek at Preston Hollow, residents have access to a licensed and caring staff who are prepared to provide a wide range of personal care services.
When it comes to the finest and most professional skilled nursing and rehabilitation, we set the standard for care and recovery. You can count on our staff's daily commitment to help you achieve your goals and return to your prior level of function. Combining a comforting, caring environment with the best in nursing and therapy, our pledge is to provide you with a positive and unique experience in skilled nursing.
Our memory care program incorporates the latest research, while never losing focus on the individual. Because we focus on memory loss, dementia, and Alzheimer's, our professional staff is highly experienced to foster relationships built on trust and understanding.
Long Term Skilled Nursing
Our long term skilled nursing provides care for seniors who need a more comprehensive care plan in a small and home-like setting. We provide assistance with all activities of daily living plus assistance with many skilled nursing needs. A licensed nurse is on-site 24 hours a day so you can feel comfortable that your loved one's needs are met. Private apartments with all of the latest amenities make our community a step above other options in the area.
Our Community consists of 45 Assisted Living apartments with a selection of one and two-bedroom floor plans, amongst the largest apartments in the Dallas-Fort Worth Metroplex – located on the first and second floors. The third floor features private rooms designed to meet the short-term needs of our rehabilitation and skilled nursing residents recovering from an acute illness, injury, or orthopedic surgery.
The fourth floor features specialized Memory Care and Long Term Care. On each floor, you may spend time enjoying our resident lounges, share delicious meals in the dining room, or enjoy the fresh air on outdoor terraces.
Download Brochure
Conveniently located on the first two floors, our 45 assisted living apartments provide a spacious and luxurious home when you want to continue living an independent lifestyle, but desire assistance with some daily activities.
Whether you are looking for a one or two-bedroom residence, we offer:
Five floor plan options
Ranging from 319 to 1,000 square feet
Emergency call systems

Wall-to-wall carpet
Complimentary flat screen TV
Complimentary Wi-Fi services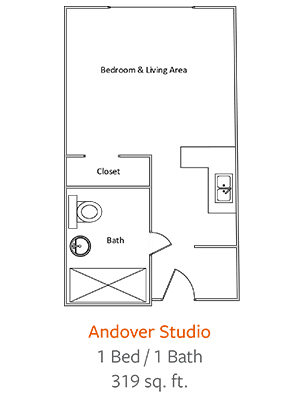 Crystal-Creek-Senior-Living-Dallas-Andover-Studio-Floor-Plan-1-1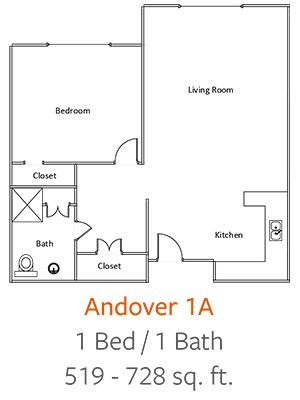 Crystal-Creek-Senior-Living-Dallas-Andover-1A-Floor-Plan-1-Bed-1-Bath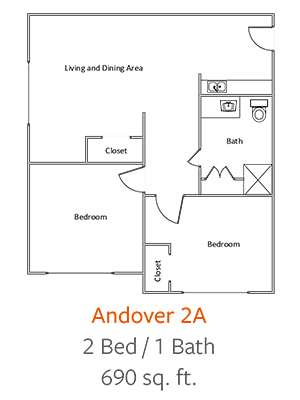 Crystal-Creek-Senior-Living-Dallas-Andover-2A-Floor-Plan-2-Bed-1-Bath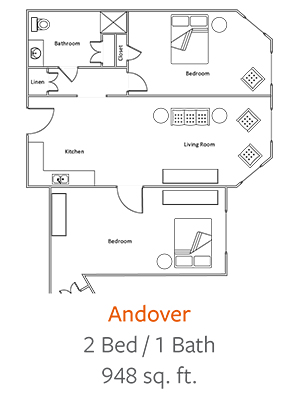 Crystal-Creek-Senior-Living-Dallas-Andover-Floor-Plan-2-Bed-1-Bath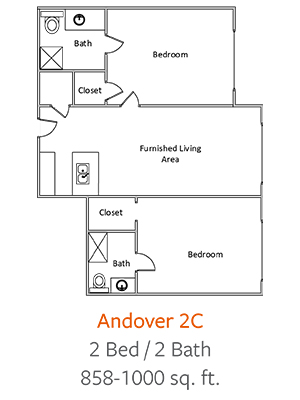 Crystal-Creek-Senior-Living-Dallas-Andover-2C-Floor-Plan-2-Bed-1-Bath
We offer an extensive array of amenities to ensure your comfort, convenience and enjoyment.
Lifestyle Amenities
Spacious living room
Library with fireplace
Elegant dining room, restaurant-style service
Executive chef and dietitian overseeing nutritional needs
Beautiful outdoor garden
Patio and outdoor terraces
Lounges on every floor
Comfort & Convenience
24-hour personalized care
After-hours security on site
Weekly housekeeping services
Weekly linen and laundry services
Full-service beauty salon and barbershop
Transportation to scheduled appointments and cultural events in Dallas
Programs & Activities
Social, educational and recreational programming
Religious programs and services
Yoga and tai chi classes
24-hour skilled nursing care
Licensed physical, occupational and speech therapy
Wound care physician, weekly
Tracheotomy care
Feeding tube management
Pharmacy services
Laboratory and X-ray services
IV and central line services
Physiatrist for pain management, weekly
Doppler, EKG and ultrasound services
Podiatrist, optometrist, psychologist, psychiatrist and dentist available
What's Nearby
There are variety of nearby restaurants, shopping and local attractions near Crystal Creek at Preston Hollow. Below is a brief list of places closest to Crystal Creek.
Crystal Creek at Preston Hollow
Chili's Grill & Bar
TGI Fridays
Arby's
Subway
Medical City Dallas
Texas Health Presbyterian
Walnut Hill Medical Center
North Central Surgery Center
Baylor Medical Center
UT Southwestern
North Park Center
Tom Thumb
Kroger
Target