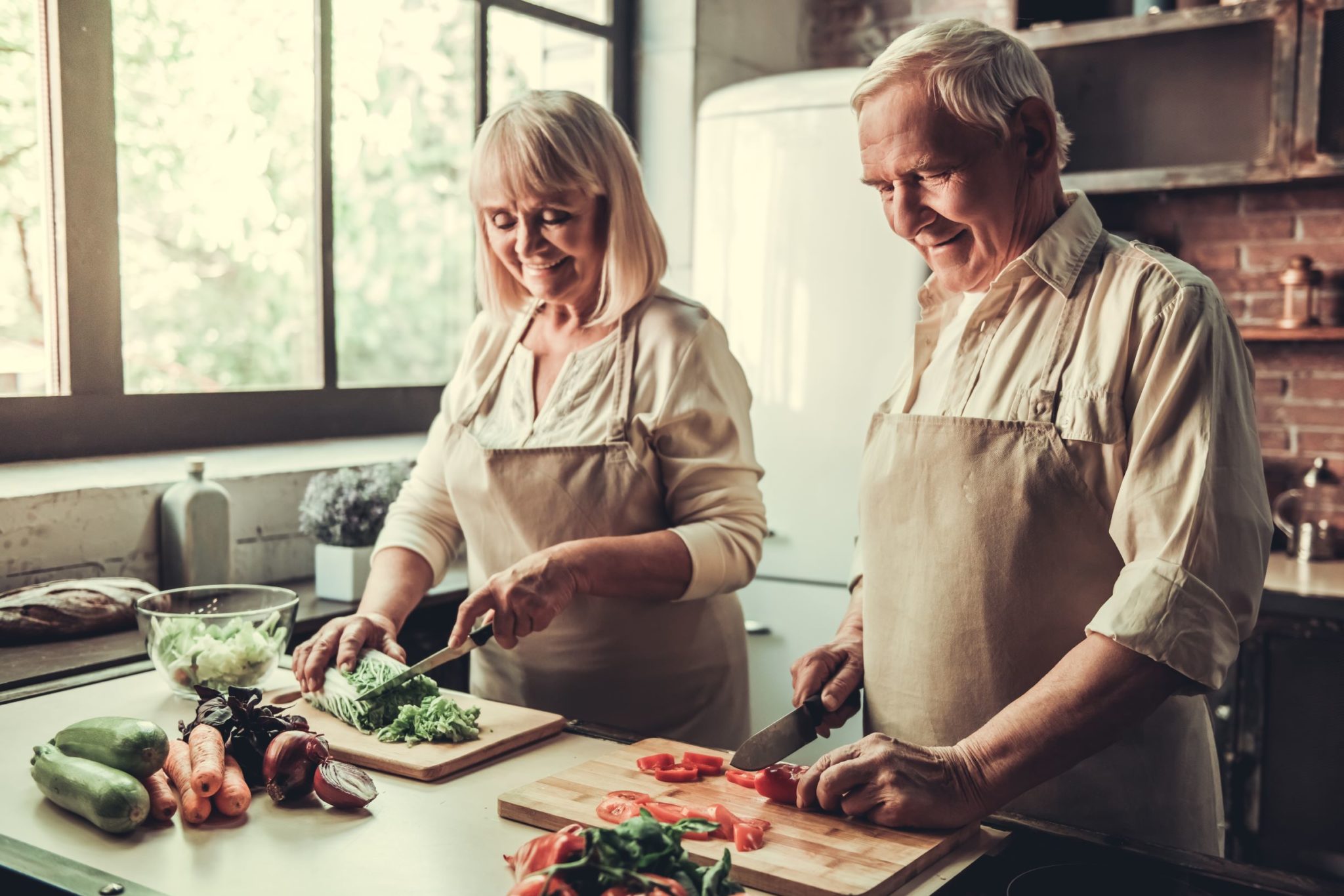 Independent living is a senior living care level that allows your loved one to enjoy the freedom of living on their own in an organized community. One of the many perks of independent senior living is that your loved ones have the freedom to cook their own foods and enjoy healthy living on their own accord.
It's important to help your family focus on some heart-healthy cooking decisions that could help keep your loved one happily independent. Follow some of these healthy cooking and shopping tips, and encourage your loved one to keep their heart's health a priority; especially when eating.
Shop Colorfully
One of the best things one can do for their heart health is to shop for colorful fruits and vegetables. Not only do they make the meals they are served with that much more appealing, but adults need five servings a day of each in order to get the correct amount of nutrients these foods provide.
If your loved one stocks up on fruits and vegetables, they can quickly benefit from more:
Potassium
Vitamin A
Folic Acids
Fiber
Vitamin C
Magnesium
Lutein (specifically heart-healthy)
Find Seasoning Alternatives
Sodium is one of the silent killers of heart-health, and unfortunately, is the go-to ingredient used in most seasonings offered at the grocery store. While we aren't suggesting you completely cut out salt from your diet, controlling sodium intake is one of the easiest ways to help your health out.
Some ways that we recommend reducing sodium include:
Excluding salt from the dinner table after a meal has been served
Cutting the salt by half in your recipes
Find reduced-sodium shopping selections
Season food with natural herbs, onions, citrus juices, and peppers
Reading nutrition labels is a great way to watch your sodium intake. Go shopping with your loved one and ensure they purchase foods that help reduce negative additives to their diet. Reading labels and finding foods with less than 250 mg of sodium will help make the shopping process easier.
Focus on Eating Omega-3 Fatty Acids
Omega-3 fatty acids can easily benefit your heart-health by reducing blood clotting, blood pressure, and decreasing the chance of heart failure later in life. The best part about fatty acids is the foods they are found in are easy to find and are simple to add on any dinner plate.
Some foods that offer Omega-3s include:
Flaxseed oil
Walnuts
Fatty fish (salmon, tuna, sardines)
Emphasize High Fiber Meals
One of the best ways to lower blood cholesterol is through eating nuts and foods that are high in fiber. The fiber your loved ones need for a healthy diet can easily be found in several fruits, vegetables, beans, and whole-grain products.
Live Right, Eat Right at Cornerstone Senior Living Communities
If your loved one is ready to try out an independent living option, Cornerstone Senior Living is prepared to welcome them into a community near you. Our independent living programs allow your loved ones to enjoy their freedom while letting go of some of the difficulties that come with living on your own. We are ready to meet your family and show them around. Contact us today to learn more about our programs and schedule a tour at a community near you.