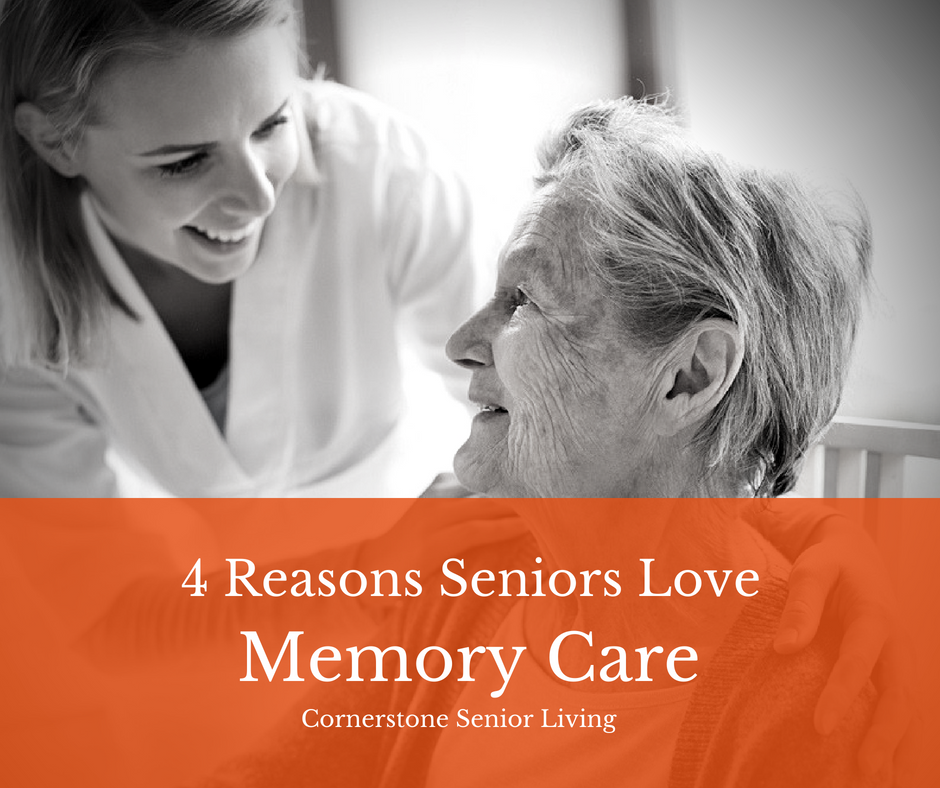 When faced with Alzheimer's Disease and dementia, life for your senior-aged loved one may feel like a daily struggle on all fronts. However, Cornerstone Senior Living has a memory care service that helps to improve the lives of your loved one dealing with these neurological disorders.
Memory Care is a sector of senior living that covers some very serious aspects of aging that some people have to live with. Since it is such a specialized area of senior care, there may be questions as to how it would benefit your loved one. Here are four of our top reasons why seniors benefit highly from placement in Memory Care communities.
1. They Get the Care Services When They Need It Most
The cost of a live-in nurse or medical professional is very high, and it is nearly impossible to predict when a patient with Alzheimer's or dementia will need medical assistance. No two cases are identical, so that is why the whole goal of a Memory Care community is to tend to the safety and medical needs of your loved one when they need it the most.
Our Memory Care communities have caregiving services that are built to serve your loved one 24 hours a day, 7 days a week. Even if your loved one just needs someone to talk to at 1 a.m. we will have someone available.
2. Seniors Feel Physically Safe in Memory Care Environments
Physical safety is a need for any senior member of your family. However, this need intensifies when dealing with neurological disorders. One common symptom of these diseases is wandering. In fact, wandering contributes to most accidents that occur in and outside of the home without proper supervision.
When your loved one enters Memory Care, they will have caregivers available to tend to them and eliminate hazards that may occur due to the memory loss involved with these conditions.
3. Seniors Still Have Some Independence
Although we are a company of professionals that are eager to help your loved one at any time of the day, they will still have some independence. Based on your loved one's personal situation, they will be able to perform some of their favorite activities alongside the caregiver.
Your loved one will have the opportunity to:
Go shopping,
Select their own groceries,
Go for a walk in the park.
4. Daily Tasks Become Easier
During a senior's golden years, daily tasks may become that much more difficult to accomplish. With the aid of a Memory Care provider, your loved one with Alzheimer's or dementia will be able to receive assistance with daily tasks like bathing, cooking, and doing laundry. Their Memory Care provider will even assist them with remembering to take important medications.
Cornerstone Locations Offer Memory Care Services That Meet Your Needs
If you have a loved one that needs Memory Care assistance, then Cornerstone Senior Living has a community that will make your loved one family. Contact us today to schedule a visit or learn more about our Memory Care communities.